ChickenZ: Zombies From Hell
A downloadable game for Windows, macOS, and Linux
ChickenZ is a game where you fight zombies, where the only tutorial is reading the controls on the options menu.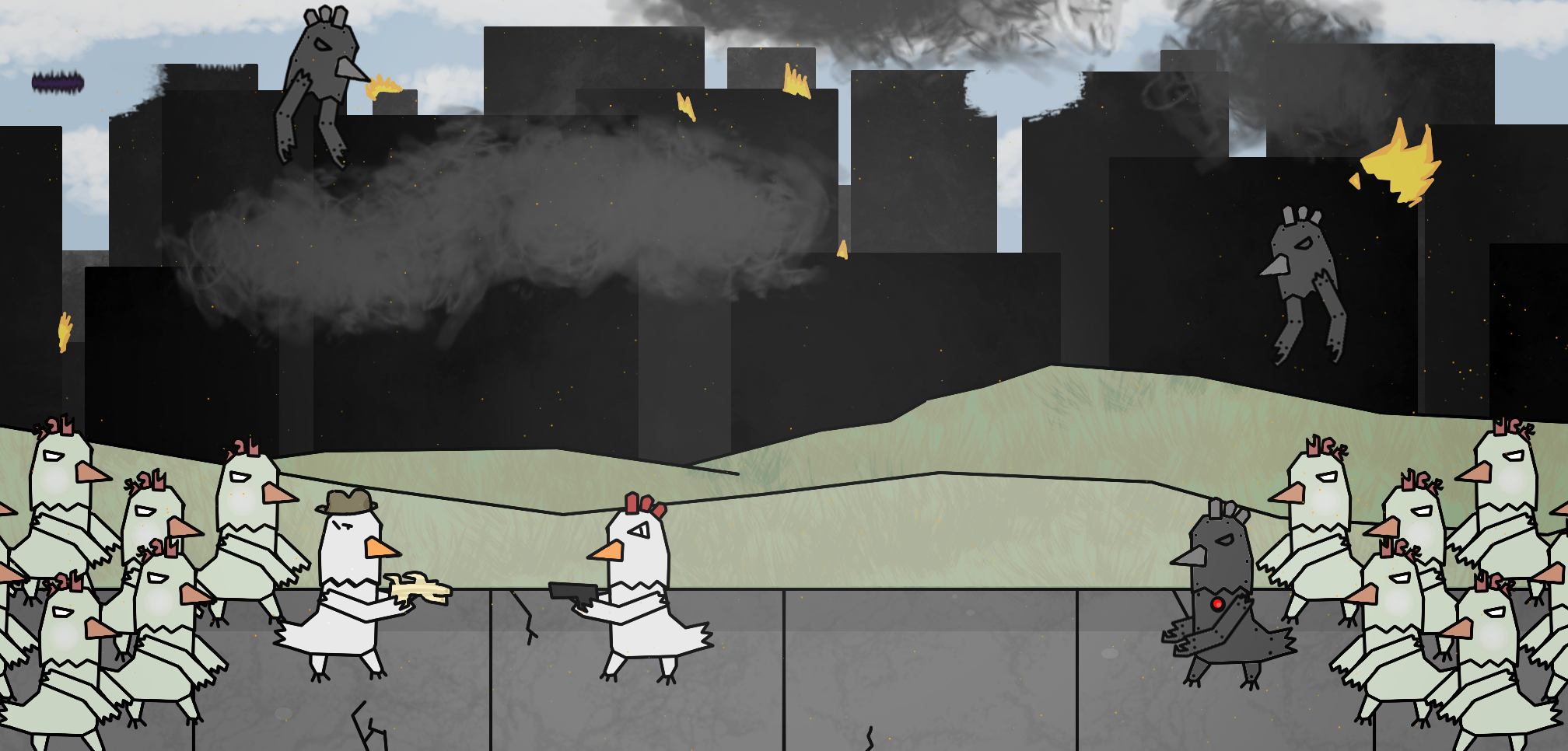 Why Play ChickenZ?
Haven't you always wanted to see chickens fight zombies? It's the game you didn't know you needed!
The Arsenal
Upgrade, recolor, rename, and use a variety of melee weapons, ranged weapons, armors, and helmets, to get your advantage over the zombies. You will have full customization of how you decide to kill them in this Sandbox-like adventure.
There are also Unique items, harnessing random stats and abilities, with no limit. You can turn them off, or even have them replace all ordinary drops.
Gamemodes
You have a wide selection of modes to play. Campaign, which gives you 40 stages of storyline to complete - Each with their own modes like Survival, Zombies Killed, and Boss.
There is also an Endless mode, allowing you to truly test your skill. Every so often, you may find yourself in the merchant's store - Allowing you to pick an additional upgrade to keep yourself alive.
Finally, but not least, is Boss mode - Where you can shoot through Bosses in quick rounds, making your own loadout to get even better results. Bosses will increase in difficulty, with each boss killed.
Gameplay
The gameplay in ChickenZ is satisfying. With it's unique critical-hit system, Rage that allows you to double your damage output after numerous hits, and unique weapons to give you your own playstyle, you will (hopefully) find the game quite enjoyable.
You even have secondary weapons that you can switch between when you need. If you main a melee weapon, and a ranged enemy appears that your armor is too weak to confront, you can immediately switch to a gun to take them out.
What Makes This Game Great
This game can be easy, or difficult depending on what you want. With statistics, trophies, mods, allies, and more - Everything you control.
The combat is satisfying, and there are some funny moments that may make you laugh. Not to mention that the bosses in this game are absolutely crazy-looking.
And if you find something that isn't here that you want in this game? I will add it. Comment below or in the discord server (https://discord.gg/db2xN9m) and if I like it, I will most surely consider adding it.
Oh, and if you have an idea for anything. A boss, a weapon, armor, literally any content-related thing, tell me. I will add it! This game is supposed to be weird - It can be a shoe, a gun tied to a stick - Anything! As long as it's appropriate!
| | |
| --- | --- |
| Status | Released |
| Platforms | Windows, macOS, Linux |
| Rating | |
| Author | Boopdoop |
| Genre | Action, Role Playing |
| Made with | Godot, Krita, GIMP |
| Tags | 2D, Character Customization, Chicken, Endless, Fast-Paced, Funny, Moddable, Singleplayer, weird |
Download
Click download now to get access to the following files:
ChickenZZombiesFromHellWindows.zip
180 MB
ChickenZZombiesFromHellLinux.zip
180 MB
ChickenZZombiesFromHellMac.zip
194 MB
Comments
Log in with itch.io to leave a comment.
Nice! Thank you for playing my game! I would like that complete list of thoughts and suggestions though - For future updates.
didnt play doesn't seem that good = 5 stars :)
Hope you consider trying it! :)
its not right to comment on a game without actually playing it. i think the game is great and you should play it.
i will. the thing is i am a teen (just turned 13 in jan) and i have exams to do 11 exams r left tomorrow is my 4th exam :)
did u play it cuz your saying " i think the game is great" which means u didn't play it aswell
That doesn't mean he didn't play it. That just means it's his opinion.
i mean i am not doing violence but he thinks the game is good not sure if he played it he would be sure.btw i think it's a good game :)